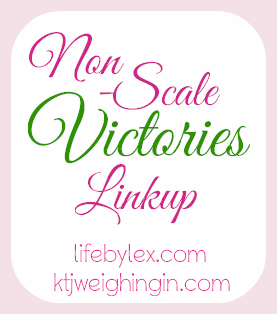 So I am super duper excited to be joining NSV (non-scale-victories) hosted by the wonderful
Katie
. This is a series that I have seriously enjoyed (I've been a lurker in the blogging world for a LONG time). It's about celebrating successes in your health journey that aren't necessarily reflected by the number on the scale.
So this week my NSV's are linked. I went for a run today which means I have exercised 3 times in one week. I know that doesn't seem like a big deal but I have this terrible habit of making it out twice in a week but I never seem to find the time/energy to get out that third time. But by going out for a run today I broke through that mental barrier, yay! But, perhaps just as important I went for a run even though it was raining. I'm a bit of a fair weather runner, which is a terrible thing to be living in the North West of England as it rains alot! And despite the miserable weather I actually enjoyed myself, although I did find myself wishing I'd kept my glasses on because at least then they'd have kept the rain out my eyes!
I wanted to take a photo after my run so you could see the drownt rat look I was rocking, but I fail epically at selfies (I can't seem to hold the phone and click the take photo button at the same time, what's wrong with me!). So instead I took a photo of my feet, I always feel like the Vibrams make my feet look decidedly frog like, which given the weather seems very fitting!
What were your NSV's this week?
I'm off to a friend's wedding this weekend which is exciting. I'm heading down tomorrow morning to help her set-up, but hopefully I'll have a chance to get out for a run at some point and take some photos, other than of my feet!
toodles!