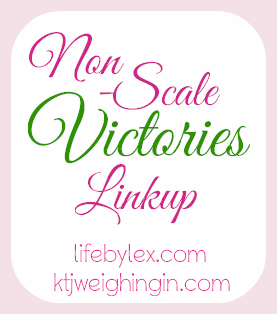 Super excited to be linking up with the lovely Katie, Ashlee and Lex for NSV's.
This week I actually have a couple I wanted to share. The first involves this picture:
me in my hammock chair (before it tried to kill me)
Ok so you can't really tell in the picture but I'm wearing shorts. Which is in and of itself a big deal. I never wear shorts, I always feel too self-conscious, and I was just wearing them around the house so the only people that saw me in them were my family, but still this is a big del for me. And almost just as exciting these are shorts I haven't worn since I was 19!
Also I know I've been harping on about this all week, and I apologise for bringing it up again but I'm just so excited by it, I ran for 28 minutes straight! I couldn't even imagine getting to this point when I first started working my through the C25k programme in April. Yes it has taken me a lot longer than "they" said it would but I still got here! Next I should probably try and maintain a pace which is faster that walking?
And since Monday I have tracked everything I've eaten, even yesterday's KFC, yay!
Lately
I've been really enjoying my running and now that running a full 5K is within sight, I've been thinking about what's next? Originally I was just thinking of stepping up to the 10k training programme. But both

Carolyn

and

Ashlee

are working towards a half marathon and I've been thinking maybe I should make that my next big goal. What do you guys think? And the fact that I'm even thinking about this, definitely counts as a NSV!
But what are your NSVs this week. Have you been a tracking star or an exercise fiend? Or have you simply changed your attitude towards your body?
toodles