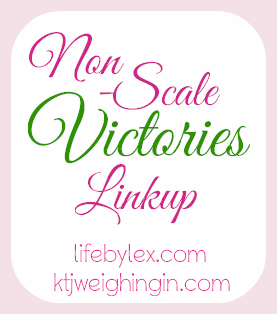 Its NSV Thursday. It's just a quick one this week because this week hasn't been super great but yesterday I filled the fridge with healthy foods and I have a plan for getting back on track. And that's my NSV, I haven't let one bad week completely derail me, I've accepted it and putting it behind me. Its a journey, and one slip-up is not the end of the world, and I think I've finally learnt that!
So I was super excited over getting tagged by Carolyn to do this 6 questions thing! Once I'd finished dancing around the house like a lunatic I started to freak out. I mean the first question alone is enough to give a food-loving girl a headache. However, in honour of my lil girl crush on Carolyn I'm going to soldier on through, so be kind!
1.
If you could eat one food for the rest of your life, what would it be?
I have agonised over this for the past 24hours. I'm a genuine food lover. The different tastes, textures and smells I just love it. So picking one food to last a lifetime is my worst nightmare! However, I've been thinking about it and I'm going to have to bend the rules a little bit and go with a whole meal. I know its cheating but there was no way I could pick just 1 food, a girl needs a little savoury and sweet. So here goes. I'd start with my mums awesome ham and lentil soup (you know its done when your spoon can stand up alone). Then, and this was seriously difficult, steak pie and mash (you just can't beat pie). And finally brownies..... I don't feel any explanation of that decision is necessary, brownies rule!
2.
What's your greatest accomplishment?
Wow! Talk about a change of pace! I found this question really tough, and I really didn't know where to go with it. I thought about mentioning some of my academic achievements but to be honest I'm not as proud of those as some of my less tangible achievements. Namely my ability to see the positive in some truly horrible situations. This is the second time I've attempted to do a PhD and the second time for one reason or another it hasn't worked out. Its been a really tough few years, things have been truly awful. And sure there have freak-outs and things I could have handled better but I haven't dissolved into a blubbering mess. I've made the best out of situations and made I believe to be the best decisions I could have. But over-all I've remained positive, I trust that God has a plan and whilst I thought I was there to get a PhD He clearly knew better, and I truly believe I was there for the church, the friends I made and the people I got to meet.
But graduating top of my class was also pretty awesome ;)
Who inspires you?
Old people. Just wait and hear me out before you dismiss this one. I've been around the older generation my whole life, that's what happens when you grow up in a church where your parents are considered young! As a result I'm very comfortable just hanging out with

silver foxes'! And then I got involved in community out-reach to the older generation. It's something I'm passionate about, I think society as a whole forgets them and dismisses them as useless. Ethel was abandoned at a train station as a baby and grew up in various orphanages before being adopted and meeting her husband at the age of 16 and serving as a land girl. She's out-lived her husband, 3 of 4 children and is currently watching her last child slowly die and yet she remains positive and has the most amazing faith in the Lord I have ever seen. But perhaps what is most surprising about Ethel's story is that she's not alone. I have honestly never met someone who is shall we say of a certain age who doesn't inspire me. So many of them have the most amazing stories if we only take the time to stop and listen.
Who is/are your blog crush[es]?
Oh my goodness, I have sooooo many blog crushes its embarrassing, other than Carolyn obviously.......
Ashlee

and

Katie

both of these ladies blogs are so inspirational. They are both incredibly honest bloggers, documenting both the good and bad and that's something I really admire.
What's one thing on your bucket list?
This is a toss-up between doing a sky-dive and tour of the west coast of the US to include the world's tallest, oldest and widest trees (I really like trees).
What's something we don't know about you?
I'm a bit of an adrenaline junky: I used to have a motor-bike, I've done multiple zip-lines including the world's steepest one and roller coasters are my happy place.
So thanks Carolyn for tagging me this was super fun and I'd like to tag these lovely ladies:
As for the questions, I'm going to keep them the same. I did think about changing the first one to "who'd win in a fight Bond or Bourne?" but figured that's the kind of question that can cause feuds to start!