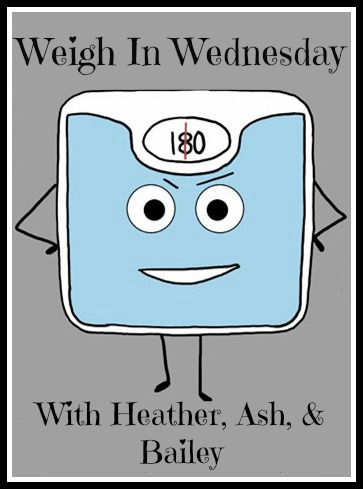 I wasn't going to do this, this week. I have just been lazy, and emotional with things with work, so I've been emotionally eating, but to stop I'd have to actually deal with the problems, which I can't face..... and so the emotional eating continues. And what's worse is I'm eating in secret again, you know when my parents are out and not around to judge me (this is why living at home again sucks, no matter how temporary, because i revert to teenage habbits). Also side note, i can cook/bake, which means when I suddenly findmyself craving a cupcake with butter cream icing there is nothing to stop me whipping one up! And the scale reflects this. As I mentioned I wasn't going to blog about it, because lets face it, avoidance is my default setting. However, I was reading other people's weigh in Wednesday posts, particularly

Bailey

's, and it inspired me to come clean. That's why I like these link-ups it reminds us we're not alone and it's OK to not always be OK. Is it just me that has a weird sense of déjà vu? But like Bailey I'm looking forward to autumn, because things with work should change (providing I get my act together now). And then I can get a normal job, where there won't be the same issues, and I will have a routine. But in the meantime my goal is to stop with the secret eating. And I should stop avoiding the thesis too.
So there we go, not the most eloquent or perky post, but a truthful one. In other news I'm going to attempt an entire run in the frog shoes, on the road, wish me luck!