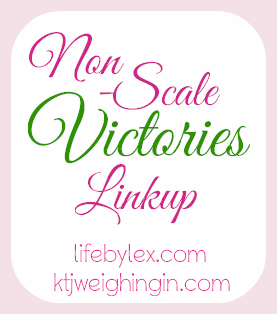 This is definitely one of my favourite link-ups hosted by the lovely Katie and Ashlee.
And I think its an important one. I don't know about everyone else but sometimes I can get a little bit obsessive about the scale and allow it to dictate how I'm feeling, this link-up and reading everyone else's stories helps keep it in perspective for me!
So my NSV is that I have worked out everyday this week, some days I've done more than others but since Monday I have done something to get my sweat on everyday. And that is something I am super excited about because my pervious personal record on that front is working out 3 times within a week!!!
Also after yesterdays love letter to MFP, the jury is in with it's verdict which is that whilst i CAN eat back all my burnt calories I don't have to. So I think I'll eat some of them back, I always get the serious munchies after intense exercise but I'll try and limit myself to only eating what I need to refrain from gnawing on my own arm and not eat the whole shebang. We'll give a week or so working on that basis and see how it goes, I might have to reassess my stance after that but for now that's my plan.
Well with that in mind I better go check on the soup that I've left cooking on the stove!