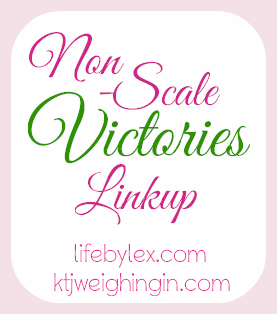 Its NSV Thursday. And much like the lovely Katie I don't really have any this week. I have indulged my whims on the grounds of being ill. I'm not very good at being ill. It makes me want to mope, coccon myself in my duvet and eat.... pretty much everything. However, I when indulging in it (they say you should feed a cold right?) I made the switch from full fat brownies and all the chocolate to reduced fat brownies and jaffa cakes. Not a HUGE victory, but a step in the right direction. With that in mind I thought I'd share the reduced fat brownie recipe,

original here

, I've altered it a little and added notes for changes/substitutions I've made in the past.
3/4 cup all-purpose flour
3/4 cup cocoa
1/2 teaspoon baking powder
4 tablespoons unsalted butter, at room temperature (sometimes I just add more greek yoghurt)
2/3 cup sugar
1 large egg
2 egg whites (or another whole egg)
1 teaspoon vanilla extract
1/2 cup nonfat Greek yogurt
1/4 cup semisweet chocolate chips


P
reheat oven to 350 degrees
Cream butter and sugar together, then add egg, egg whites, and vanilla

Mix in flour, cocoa, baking powder and greek yoghurt.

Stir in choc chips.

Transfer to greased pan and bake for 25 minutes.

Cut into 16 pieces, for best results store in the fridge, that way they are super fudgey.
It is entirely possible to eat all 16 on your own, so maybe make them when there are other people around?