It's brain dump Friday (yes its incredibly lazy nut so handy for all the little things that don't deserve a pot of their own), so here we go:
·
Thanks for all the lovely support this week, it really has been appreciated!
·
I'm going to see Bill Bailey tomorrow and I'm super excited, I anticipate laughing for a solid hour which will burn lots of calories right?
·
This calorie burn will come in handy because I'm going to be eating Mexican food! It may not sound like a big deal but Mexican isn't a big thing in the UK, we're a nation of curry fanatics (well I'm not a huge fan but on the whole) and Mexican just isn't a thing. There are a couple (and I really do mean 2) of chain restaurants that are OK (nowhere near as good as the Mexican I got in texas but beggars can't be choosers) but a new independent Mexican has opened in one of the nearby towns and I have high hopes for it. AND a month ago my friend got a significant pay rise at work (actually % wise for her it probably wasn't significant) and I extracted a promise that she'd take me out for dinner. Well as she's coming down to see Bill Bailey with me and it just so happens to be in the same town as the Mexican I'm cashing in my free meal!
·
Aunty Flo arrived for visit. I realise the majority of you are scratching you head over why this gets a mention but because of the PCOS she doesn't visit often, so its a big deal, and also goes a long way to explaining the binge-fest that was the beginning of the week!
·
I went for a run in my new shoes and whilst the half size down would have been perfect they are still pretty awesome and I love them! I think they're going to take a little bit of getting used to as I felt different muscles being engaged so I may have to scale back a little and build up again to give my legs time to adjust.
·
And last but not least I'm going to be joining up with this challenge: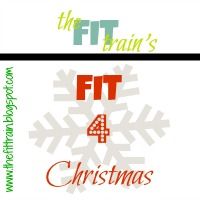 I'm super excited and its just the kinda thing I need at the moment for that little extra motivation. Each week Tiffany is going to be setting a challenge to help motivate everyone. I've also set up my own goals:
·
Drink green tea once a day
·
Cut back my diet coke habit to 1 a day
·
This one is the biggee, I'm going to start Jillian 30 day shred DVDs. I've already done the first one and my legs are killing me. BUT as it involves squats I'm going to let it count towards Tiffany's challenge of the week:squats!
I hope you all have a fantastic weekend,
toodles!