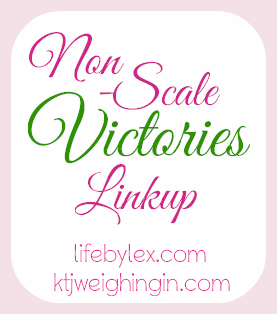 I'm super excited about NSV Thursday because this week I felt like the scales didn't reflect the hard work I put in. I have tracked everyday this week and been within my calorie allowance, granted some days I've had to earn back calories through exercise but that still counts. Which leads me to my other NSV: I have exercised everyday. I have done Jillians 30 day shred every day but Saturday (when I went for a walk instead) and most days I have done something else too, either running or hula hooping which is a huge deal!
In other news I had a great run last night. I haven't really mentioned it here but the past few weeks (before and after the shoe debacle) I've been having a really tough time with running. Everytime I went out it seemed like a real struggle, remember a few weeks a go I was getting excited over my pace well those days seemed like they were in the distant past. For 3ish weeks I've been struggling to even make it all the way around my usual loop, and I've had to stop for at least 2 brief walking breaks and thats with a painfully slow pace. However, yesterday even though the weather was miserable, and I'd left my run until 4.30 so it was a bit too dark it was a great run. From the get go I felt much better, sure there were a couple of times where stopping for a walking break would have been nice but I didn't NEED it so I didn't. I onl stopped to walk when I got to the top of the village and to be honest if it wasn't for the fact that it was too dark for me to safely continue to run on the road I could probably have kept running, but because it was so dark and the traffic was picking up which obliged me to move up onto the pavement, and as I can't cope with the slope

of the pavement I stopped to walk for that short section before running the rest of the way home. I arrived home looking like a drownt rat but much happier with my run than I've felt in a while, wooop!