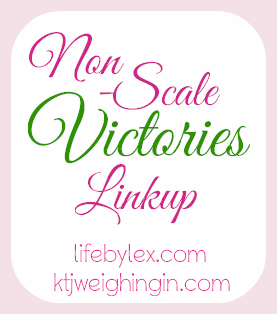 NSV Thursday. Otherwise known as the worlds most positive blog link-up, probably.
I touched on an aspect of this week's NSV already and it is to do with clothes and the bigger concept of style I ordered clothes from Modcloth, somewhere I have wanted to buy things from for a couple of years but always felt a bit awkward about.
I don't have a great sense of style. Clothes have always been a weapon of disguise. When I was younger 15/16 I had a pretty awesome figure, a slim waist and a huge bust. But at the time I lacked the confidence to revel in it, and felt really self-concious. So I always chose clothes to minimise and disguise the figure. And then when I started piling on the lbs it was clothes which I felt hid my bulk (in retrospect they didn't but in my head they did). This combined with the British school system means I never really got into clothes or developed a sense of style. I went from wearing a school uniform (at a school which was very strict over it, they used to measure skirt height) to a 6th form which had strict clothes guidelines, so to make my life easier I developed my own uniform of dark wash jeans and jumpers. And because of reasons outlined above I never really experimented at the weekends. I created this style uniform for myself that didn't really express anything. And then as my weight escalated even more I used this uniform of dullness to hide from the world. Then as I started to find my feet more (even before the weight loss) and started using shoes as a way to express myself. But I still felt funny about clothes, and avoided certain brands terrified that they wouldn't fit or wouldn't be flattering and I guess in some ways unworthy of some stores. But as I've been shedding weight I've also been shedding some of my insecurities. It started at the beginning of summer and has slowly been building momentum, which is what led to my Modccloth spending spree. And do you know what, not a single item was black, or even a dark grey!
Actually it's a pretty monumental NSV isn't it?
Right I'm excited to go read everyone else's NSVs!