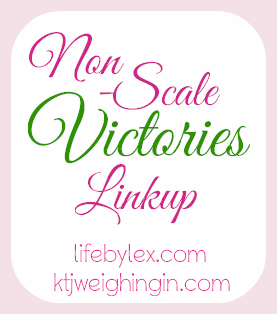 So my NSV this week has nothing to do with weight-loss or even health and fitness: I GOT A JOB!!!!!
Honestly anyone who's been around these parts for any length of time knows that as a grad student who's finishing up I have been spending a lot of time job hunting without much luck. So this is just fantastic news.
I have had a tough couple of years. Things at uni have been pretty sucky with lots of supervisorial issues that really knocked me for 6 and since moving home to write up my thesis I have been slowly putting myself back together. Part of that was starting my weight loss journey as I put on 10lbs for every year spent in post-graduate education! Anyway, I digresss the point is it knocked my confidence which has made job-hunting that much more difficult. So getting this job is a BIG deal. It's 5 weeks up in Aberdeen, going door to door teaching people about how to use the new food waste bins which are being introduced in the area. Side note, food waste is a big deal and in the UK accounts for 1/3 of all household waste. Not only is this a waste of food but it causes problems when it ends up in landfills, by using recycling and composting services you can reduce the amount which finds its way to landfills and end up with some great fertiliser to boot!
It was a brilliant interview, there were only 2 women interviewing me and they were both so nice they really set me at ease and they were super complimentary which is always nice. It's a great opportunity for me, not only will it give me some great experience in community engagement and a fantastic reference. But most importantly it's a job doing something I'm passionate about, I believe that you need to educate the general public in order for them to make informed decisions as consumers and service users because it's them that drives true change through the choices they (we) make. And what's even more exciting there is the possibility of it leading to more work (but in a different field and in the area all my family live) from May through to the end of August.
So that's my NSV this week. I'm sad to say that despite resolutions to the contrary my eating and exercise has been baaaaaad. I love being up here with all my family but they areally are a bad influence.

I know I'm in charge of my own decisions, but it's hard, they make me such lovely meals, and take me out for high tea, and sure I could say no but all the food is so damn delicious!!! Case in point as a celebratory meal my cousin is making me nacho pizza, how yummy does that sound!?! Anyway there is a family funeral this weekend (which means more food). But my new job starts on Monday so I will be miles away from any bad influences and will be able to focus on getting my diet back on track. And as running is still off the cards at the moment (as is JM thanks to all the squats) I've decided to treat myself to the yoga meltdown as soon as I get paid!!!!
Right I am dog-sitting today so I better go take the wee beasties out for their walk!